A LOOK BACK AT JUNE
Sven Väth – Mixmag cover
"I first came to Pacha in the middle of '80s and I loved that club so much. There was a romance about Pacha."
Read the full article here: http://mixmag.net/feature/sven-vaeths-ibiza 
Sven Väth – Mixmag cover mix – An hour of power from one of the world's most prolific selectors
Listen here: https://soundcloud.com/mixmag-1/the-cover-mix-sven-vath-1 
Ibiza Spotlight opening review – Cocoon grand opening party metamorphosis at Pacha
Read the full article here: https://www.ibiza-spotlight.com/magazine/2018/05/cocoon-grand-opening-party-metamorphosis-pacha-ibiza
Cocoon Ibiza monthly mix!
As Janina stepped up with the first Cocoon Ibiza mix of the summer, it earned a coveted spot as Resident Advisor's Mix Of The Day.
Listen here: https://www.residentadvisor.net/feed/106098
Up next on the Cocoon Ibiza monthly mix is D'Julz.
AND OF COURSE DESTINO….
COCOON IBIZA JULY EVENTS
4th July 2018
Main Room: Ricardo Villalobos, Seth Troxler, Craig Richards
Room 2: Sonja Moonear, Edward
Excitement strikes as this is the first time Villalobos exerts control of Pacha's booth, and Cocoon loyalists now know that together with Troxler and Richards, this night is a quintessential Cocoon experience.
Over in Room 2, Swiss siren Sonja Moonear is set to dish out a succession of slick beats, while Giegling favourite Edward is guaranteed to leave clubbers satisfied.
Tickets: https://bit.ly/2KmuxHG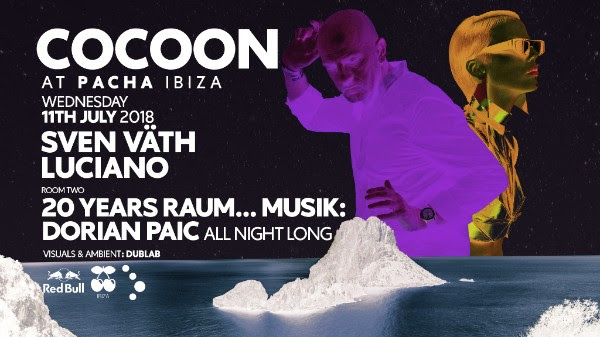 11th July 2018
Main Room: Sven Väth, Luciano
Room 2: Dorian Paic all night long 20 Years Raum…Musik
He's been riding the Cocoon canon for over a decade, meaning a night with Luciano is not to be missed. With experience rocking his own residency at Pacha a few seasons back, he knows how to work the main room to his advantage.
After smashing Room 2 at the Grand Opening, Dorian Paic returns with his very own takeover as this year he celebrates 20 years of his seminal label, Raum…Musik.
Tickets: https://bit.ly/2N2vaED
18th July 2018
Main Room: Sven Väth, Roman Flügel 
Room 2: D'Julz, Traumer 
Sven brings in yet another Cocoon mainstay, this week in the form of revered German producer Roman Flügel. A chameleon in dance music – with experiments in house, techno, electro and leftfield – he'll keep you on your toes.
Over in Room 2 we're going in with a little French persuasion. Parisian veteran D'Julz is joined by deft producer Traumer for a sensuous night of deep grooves.
Tickets: https://bit.ly/2twxYBT
25th July 2018
Main Room: Sven Väth all night long, KiNK Live
Room 2: Shonky, Fabe
Bulgarian maestro KiNK is one of the most exciting live acts out there. The passion he exudes behind that booth when manipulating his weapons of choice is nothing short of exhilarating. Sven all night long, too? Yes please.
Shonky, one core member of the Apollonia family, is in for a smooth ride in the intimate second room and he's not alone, as joining him is new Cocoon favourite Fabe. 25th July 2018
Tickets: https://bit.ly/2MoY3JZ
Advertising