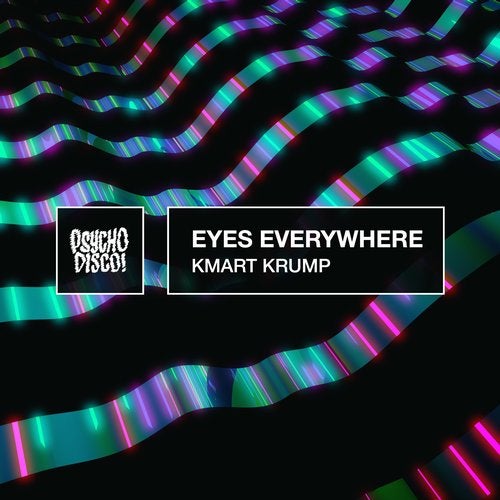 "Perfect for those trips to the next closest star system or for setting that a proper underground house vibe, expect to hit the repeat button on this track to really take it all in."
-EDM IDENTITY 
Planting the flag for the upstate New York House music scene, Buffalo duo Eyes Everywhere have solidified themselves as one of the most progressive talents within the genre clocking in over eight years since their debut. Since their beginning, the pair have released a number of critically acclaimed projects on labels including Toolroom, Desert Hearts, Sweat It Out, Box of Cats, Glasgow Underground, Audiophile, Bodhi Collective, Armada Subjekt, Great Stuff, Erase, New Violence, La Pera, and Psycho Disco! Today, Eyes Everywhere are making their return to their Psycho Disco! home with a brand new single titled "Kmart Krump."
STREAM: SOUNDCLOUD | SPOTIFY | iTUNES | BEATPORT

Following previous releases on the label, 'Talk / Cold Bug Out' and 'Soul Cycle / What It Is,' "Kmart Krump" picks up where the pair left off with a smashing classic-meets-contemporary House cut. Fusing deep night vibes, vocal house, and tech house, "Kmart Krump" is described by EDM Identity as "…a trippy ride that will have you wondering what planet you've landed on." Coming to life after a monumental year for the duo that saw both members start their families, the guys describe their journey that led to the creation of the track:
"…we came back with fresh minds, and we cranked it out. Essentially just slapped a bangin' bass line on it, and let it do the damn thing. We simply let this track find us, and that's a super cheesy thing to say, but it's kinda true here. The name is honestly us trying to make each other laugh as we name tracks in Ableton."
If unfamiliar with Eyes Everywhere before now, aside from the number of labels they've released with, they could also be caught playing live on a number of festival stages including Camp Bisco, HARD Summer, Beyond Wonderland,and Holy Ship! 
Advertising