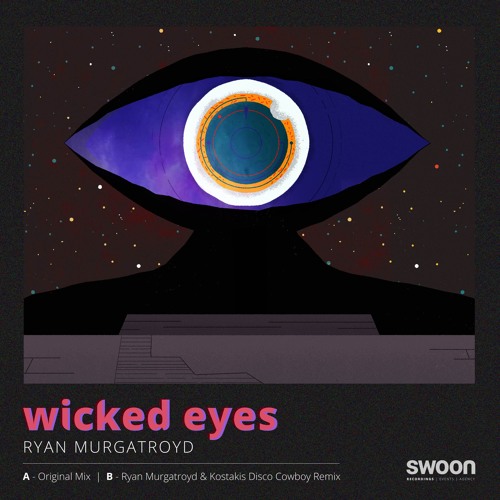 Ryan Murgatroyd – one of the undisputed pioneers of modern electronic music in South Africa and an integral member of formative live act Bantwanas – has launched his brand new label Swoon Recordings.
Tracklist:
Ryan Murgatroyd – Wicked Eyes (Original Mix)

Ryan Murgatroyd – Wicked Eyes (Ryan Murgatroyd & Kostakis Remix)
Artist: Ryan Murgatroyd, Kostakis
Title: Wicked Eyes EP
Label: Swoon Recordings
Release Date: June 14
Format: Digital
CAT#: SWOON01
Looking to widen the often clichéd perception of African electronic music and champion only the finest talent from across the continent, the Johannesburg-based producer marks the launch of Swoon Recordings with the long-awaited release of his two-track EP 'Wicked Eyes'.
Out now, the EP kicks off with a deep and expansive Original Mix from Ryan Murgatroyd himself, who layers eerily haunting, yet soulful female vocals against complex underlying synth patterns and drum riffs to devastating effect.
Transcending language through melody and rhythm, the flip sees Ryan team up with fellow countryman Kostakis for a dance floor-oriented remix, as the two producers put their spin on a stunning label debut from head honcho Murgatroyd.
Going on to speaking about the release itself, Ryan continued:
"A melancholic yet hopeful piece about the burden of a labour of love, Wicked Eyes was recorded in Johannesburg almost 15 years ago, and sat on a hard drive for over a decade, forgotten about. We found it one night and instantly reconnected with it, tracked down the old friend who had sung the vocal and layered all the harmonies. Wicked Eyes is a tale about longing, about the burden of doing that which we love the most, and how the things we love are the things which kill us."
Speaking about his motivation behind setting up the imprint, Ryan commented:
"I started Swoon because I felt my compositions had grown too elaborate for club music. I wanted to transcend the clichés of four-four music and explore the more cinematic, avant-garde and even soulful manifestations of electronic music. We're placing a huge focus on finding new sonic palettes and escaping the generic.
Every release has a distinct theme. From the sound design to the artwork, each piece is a complete work of audio-visual art and it's vital to experience each work as a complete whole"
Ryan Murgatroyd 'Wicked Eyes' EP is out now, via Swoon Recordings.
For further information, music and up-to-the-minute news on Ryan Murgatroyd follow his official social channels below.
About Ryan Murgatroyd:
One of the pioneers of modern electronic music in South Africa, Ryan Murgatroyd has gained considerable international exposure through key performances with the likes of Boiler Room, Watergate and Hï Ibiza. Garnering huge support from key tastemaker artists such as Solomon, Damian Lazarus, Lee Burridge and fellow South African export, Black Coffee, his instantly recognisable sound continues to transfix dance floors in every corner of the globe. With the imminent launch of his new label ing Records in June, as well as past, present and future remix projects with the likes of Lane 8, John Monkman, Jonas Rathsman, Super Flu and others, Ryan is building a impressive library of works and a brand new live show to unleash in 2019.
Ryan Murgatroyd Socials
Spotify | Facebook | Soundcloud | Instagram | Twitter
Advertising