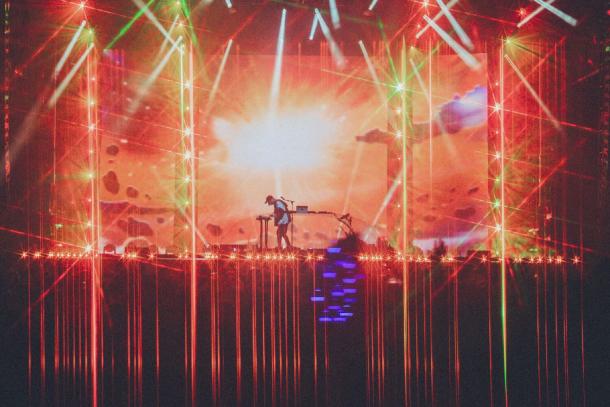 Porter Robinson 'Worlds' Photo credit: Jasmine Safaeian
30,000 FANS ATTEND SOLD-OUT INAUGURAL TWO-DAY EVENT
JUNE 15 & 16, 2019 IN NORTHERN CALIFORNIA
WELCOMING SPECIAL SURPRISE GUEST SKRILLEX
 SHOW STREAMED OVER TWITCH MUSIC
 $154K RAISED FOR ROBINSON MALAWI FUND
 SECOND SKY FESTIVAL TO RETURN IN 2020
One of the most dynamic artists in the electronic genre right now, PORTER ROBINSON can now add event producer to his remarkable list of accomplishments.  On Saturday, June 15 and Sunday, June 16, 2019, Robinson launched his inaugural SECOND SKY FESTIVAL to great success.
Over 30,000 fans made their way to Middle Harbor Shoreline Park in Oakland, CA over the two days to take in performances by international artists specially curated by Robinson.  The sold-out event featured on both days Madeon (DJ Set), Cashmere Cat, Kero Kero Bonito, Chrome Sparks, Anamanaguchi, Wednesday Campanella and Nina Las Vegas. G Jones appeared on the Saturday. 
Robinson's longtime friend Skrillex generated a special festival moment as the special surprise guest on the Sunday, revealing himself out of the festival mascot Potaro.  The pinnacle of each day was Porter Robinson's Second Sky headlining performance where he marked the return of his groundbreaking "Worlds Live" show for its only 2019 appearance.  
The Saturday, June 15 show was live streamed in partnership with Twitch Music, with a repeat airing.  Over 1.6 million fans around the globe tuned in to watch Robinson's "Worlds Live" set and others.
The event also raised over $154,000 for the Robinson-Malawi Fund.  In 2016, Robinson's 17-year-old brother Mark was diagnosed with Burkitt lymphoma, an aggressive, fast growing cancer. After intensive treatment at the University of North Carolina Hospital from his doctors and the rest of their staff, Mark was eventually cured and is now thriving. To give back, Porter started the fund to help children with this same condition in the country of Malawi. In the US, Burkitt lymphoma is very rare and more than 90% of children survive. In Malawi, where it is the most common childhood cancer, the survival rate can be as low as 29%. Dr. Kate Westmoreland, one of Mark's doctors, leads the pediatric cancer program there called UNC Project-Malawi.  For more information, log on to: www.robinsonmalawifund.org
Presented by Goldenvoice, PORTER ROBINSON'S SECOND SKY FESTIVAL was a one-of-a-kind unique event for his fans.  Look for the event to return in 2020.