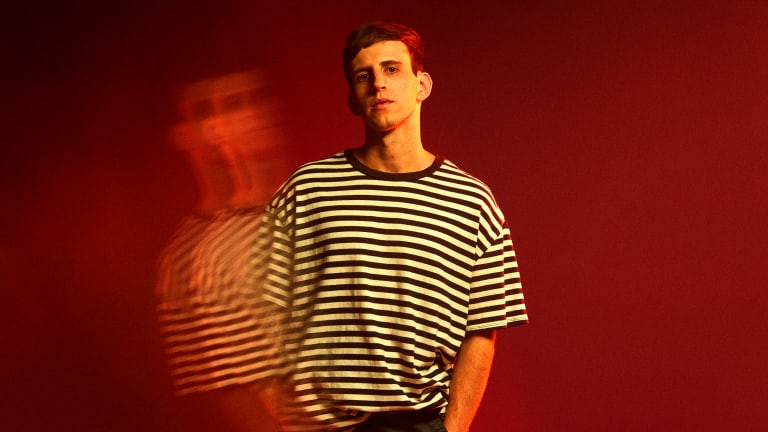 Reveals Blockbuster Tracklisting for New Album, ASCEND, Out August 16, Including Collaborations With The Chainsmokers, X Ambassadors, Bipolar Sunshine, & More
"Good Things Fall Apart" Featuring Jon Bellion Amasses 62 Million Streams 
Headlined a sell-out show at legendary 'Heaven' nightclub!
Maintaining unstoppable momentum, ILLENIUM releases a brand-new track entitled "Blood" featuring Foy Vance today, listen HERE. It paves a path for the imminent arrival of his third full-length studio album, ASCEND, on August 16 via Virgin EMI. Continuing an ethereal, apocalyptic aesthetic, ILLENIUM shares the accompanying lyric video for "Blood," which can be viewed HERE.
"Blood" sends a message to his devout and diehard fan base worldwide. Its distillation of dubstep dissonance and soulful vocal transmissions from critically acclaimed Irish troubadour Foy Vance encapsulates ILLENIUM's intriguing and inimitable alchemy as a producer. Thematically, the track sends an assuring and comforting reminder to fans: "We're all together. We cope by having a community. We're blood," he affirms.
Additionally, he revealed the powerhouse tracklisting for ASCEND, including stunning collaborations such as "In Your Arms" ft. X Ambassadors, "Gorgeous" ft. Bipolar Sunshine with Blanke, and "Takeaway" ft. Lennon Stella with The Chainsmokers. The latter impacted a couple of weeks ago and already crossed 15 million total streams and 8+ million views for the entrancing music video.
Listen To "Blood" Ft. Foy Vance Here:
https://Illenium.lnk.to/Blood
View The Lyric Video Here:
https://Illenium.lnk.to/Blood/YouTube
ASCEND TRACKLISTING:
Tracklist:
ILLENIUM "I Care" (Intro)
ILLENIUM "Hold On" feat. Georgia Ku
ILLENIUM "Good Things Fall Apart" with Jon Bellion
ILLENIUM "That's Why" feat. GOLDN
ILLENIUM "Blood" feat. Foy Vance
ILLENIUM "Take You Down"
ILLENIUM "All Together" feat. Oekiin
ILLENIUM "Crashing" feat. Bahari
ILLENIUM "Broken Ones" feat. Anna Clendening
ILLENIUM "Every Piece of Me" feat. Echos
The Chainsmokers and ILLENIUM "Takeaway" Feat. Lennon Stella
ILLENIUM and Said The Sky "Sad Songs' feat. Annika Wells
ILLENIUM "Pray" feat. Kameron Alexander
ILLENIUM "In Your Arms" with X Ambassadors
ILLENIUM and Blanke "Gorgeous" feat. Bipolar Sunshine
ILLENIUM "Angel" (Lonely Prelude)
ILLENIUM "Lonely" Feat. Chandler Leighton
Critics also unanimously praised the song. Billboard described it as, "a tale of broken hearts told from the perspective of a damaged and untrustworthy lover," and YourEDM predicted, "[it] will definitely start some singalongs in the crowd."In summation, Dancing Astronaut proclaimed it, "the collaboration of the summer."
ASCEND also boasts the previously released "Good Things Fall Apart" with Jon Bellion. The anthem recently surpassed 62 million total streams and counting. Other album cuts tallied impressive numbers such as "Take You Down" (50 million streams), "Crashing" ft. Bahari (49 million streams), and more. ILLENIUM has notably amassed nearly 2 billion streams across all music in addition to averaging 6.6 million monthly listeners on Spotify. Not to mention, he already moved 250,000-plus tickets for this fall's The Ascend Tour. Stopping at iconic venues Madison Square Garden, Staples Center, and Red Rocks (for three back-to-back sold-out nights) along the way, he has proven the breadth of his global appeal by also selling out the legendary Heaven nightclub in London. The full itinerary can be found below. For more ticket information, visit ILLENIUM.com.
The upcoming album projects ILLENIUM's immersive vision in widescreen. Not only does it musically traverse levels of electronic, alternative, indie, pop-punk, and dubstep, but it lyrically shares intimate and relatable stories inside of vibrant vignettes. Personal, poetic, and powerful, it represents the uncompromising ascension of this innovator.
ILLENIUM unlocks heightened levels of escapism. The Denver-based artist born Nick Miller fashions an otherworldly sonic retreat from elements of ethereal electronic, rich alternative, complex dubstep, intimate indie, and propulsive pop-punk and delivers show-stopping sensory experiences on stage anchored by cinematic visuals and organic instrumentation. He magnifies this vision on his third full-length, ASCEND [Virgin EMI].
Emerging in 2013, ILLENIUM carefully positioned himself to forge an enduring emotional connection. His 2016 full-length debut, Ashes, paved the way for a breakthrough on Awake a year later. Not only did it bow at #1 on the iTunes Top Electronic Albums Chart in 12 countries, but Billboard also crowned it one of the "10 Best Dance/Electronic Albums of 2017." Dancing Astronaut went as far as to claim, "While it might seem premature to call an album a 'masterpiece,' no other title would fit Awake so well." Its lead single "Feel Good" [feat. Daya] with Griffin gathered over 120 million Spotify streams as his total stream tally crossed the billion-mark by 2019. Not to mention, he regularly averaged upwards of 6 million monthly listeners on Spotify. The seminal Awake Live Tourbrought him into arenas between appearances at Lollapalooza, Bonnaroo,EDC, Decadence, Electric Forest, Paradiso, and Coachella. For ASCEND, he employed live instrumentation and co-wrote the most material yet for a project, collaborating alongside Rock Mafia [Eminem, Marshmello] in Los Angeles in addition to working out of his home studio in Denver. He initially set the stage for the record by way of "Pray" [feat. Kameron Alexander] and "Crashing"[feat. Bahari] before igniting the single "Good Things Fall Apart" [feat. Jon Bellion]. A powder keg of pop-punk energy and artful electronic soundscapes, the track exploded as a cross-format smash. As ASCEND comes to life in historic venues such as Madison Square Garden, Staples Center, and Red Rocks Amphitheatre, ILLENIUM accesses the purest form of escapism.
ILLENIUM North American Tour Dates:
Tickets: ILLENIUM.com
*Non-AEG dates
8/24/2019        Las Vegas, NV           Hakkasan Nightclub
9/18/2019        Pittsburgh, PA            Stage AE
9/19/2019        Rochester, NY            Main Street Armory
9/20/2019        Boston, MA                Tsongas Center
9/21/2019        New York City, NY   Madison Square Garden
9/26/2019        Portland, ME              State Theater
9/27/2019        Montreal, QC              Place Bell
9/28/2019        Toronto, ON               Coca-Cola Coliseum
10/9/2019        Oklahoma City, OK    The Criterion
10/10/2019      Morrison, CO             Red Rocks  SOLD OUT
10/11/2019      Morrison, CO             Red Rocks  SOLD OUT
10/12/2019      Morrison, CO             Red Rocks  SOLD OUT (Throwback Set)
10/17/2019      Nashville, TN             Municipal Auditorium
10/18/2019      Atlanta, GA                Coca-Cola Roxy*
10/19/2019      Tampa, FL                  Yuengling Center
11/2/2019        Detroit, MI                  The Masonic Temple
11/5/2019        Indianapolis, IN          Egyptian Room*
11/6/2019        St. Louis, MO             The Pageant
11/8/2019        Chicago, IL                 UIC Pavilion
11/9/2019        Minneapolis, MN       The Armory
11/10/2019      Madison, WI               The Sylvee*
11/15/2019      Austin, TX                  Stubb's Waller Creek Amphitheater*
11/16/2019      Dallas, TX                  Toyota Music Factory*
11/17/2019      Houston, TX               Revention Music Center*
11/20/2019      Kansas City, MO        Arvest Bank Theatre
11/22/2019      Salt Lake City, UT     The Great Saltair
11/23/2019      Reno, NV                    Reno Event Center
11/24/2019      Boise, ID                     Revolution Center*
11/27/2019      Seattle, WA                WaMu Theater
11/29/2019      Seattle, WA                WaMu Theater (Throwback Set)
11/30/2019      Vancouver, BC           PNE Forum SOLD OUT
12/1/2019        Portland, OR               Veterans Memorial Coliseum
12/6/2019        San Diego, CA            Pechanga Arena San Diego
12/7/2019        Los Angeles, CA        STAPLES Center
Follow ILLENIUM:
Website | Facebook | Twitter | Instagram | YouTube
Advertising