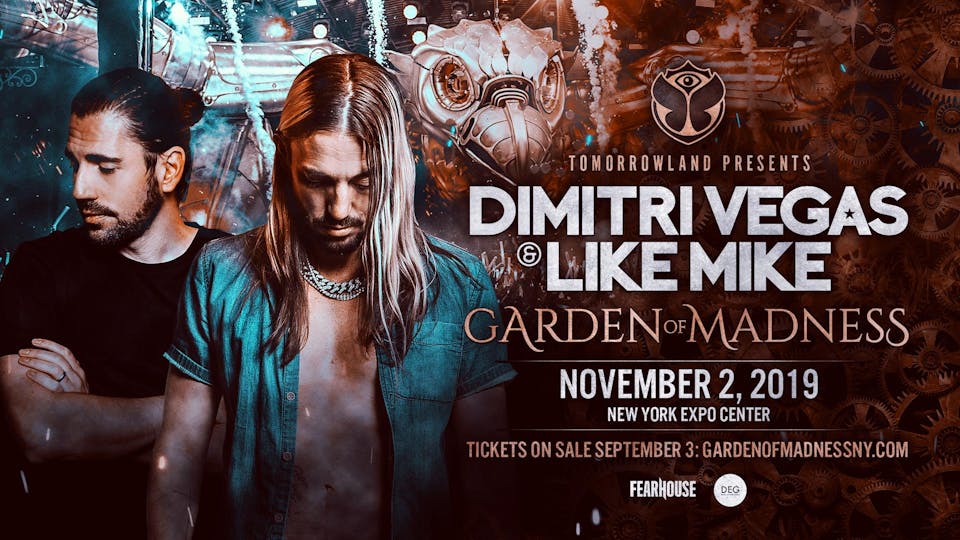 SATURDAY, NOVEMBER 2
AT THE NEW YORK EXPO CENTER IN THE BRONX
Dimitri Vegas & Like Mike, in partnership with Tomorrowland, bring their famed Garden of Madness spectacle to the United States for an exclusive one-off show at 
The New York Expo Center 
on Saturday, November 2.    Today (September 19), organizers for the event have announced Knife Party, Sunnery James & Ryan Marciano, Gianluca Vacci and Matt Medved have been added to the bill to make the party extra special. Tickets are on sale now at: 
https://www.gardenofmadnessnyc.com/
Co-produced by DEG Presents as part of their Fearhouse event series, this debut U.S. edition of Garden of Madness will be the Belgian brothers only event of its type in the country in 2019. "Since 2014, the Garden of Madness event series brings a slice of Tomorrowland's top-tier production and talented DJ roster to select cities and venues with its Garden of Madness event series. The offshoot brand enjoys a weekly residency at Ibiza, but now that summer comes to a close, it takes the joy on the road," wrote Kat Bein of Billboard Dance.  Devotees of the Garden of Madness mantra can still expect Amare (the much-loved eagle) to be a central fixture at the show.
View and share the announcement video: 
ABOUT DEAN ENTERTAINMENT GROUP (DEG)
Dean Entertainment Group (formerly "RPM Presents") is New York's leading independent full-service music event, marketing, and promotion platform founded by music and nightlife impresario Eddie Dean, former owner of Pacha NYC with over 30 years of trusted experience in entertainment, nightlife, culture and events.
As the experiential arm of The Dean Group, DEG offers both large and small-scale production services and delivers unprecedented immersive music experiences to diverse audiences, ranging from intimate private shows and soirees at the most sought-after clubs around NYC to 100,000-person multi-day music festivals.
ABOUT FEARHOUSE NYC
Since the launch of Pier of Fear in 2012, DEG Presents has continuously curated the best and the largest Halloween event in New York City. 2017 marked its 5-year anniversary, evolving into 'Fearhouse'. The newly-minted Halloween event series takes place at several warehouses spanning New York City. Last year featured a diverse line up spanning Travis Scott & Virgil Abloh to Dimitri Vegas & Like Mike.
Advertising