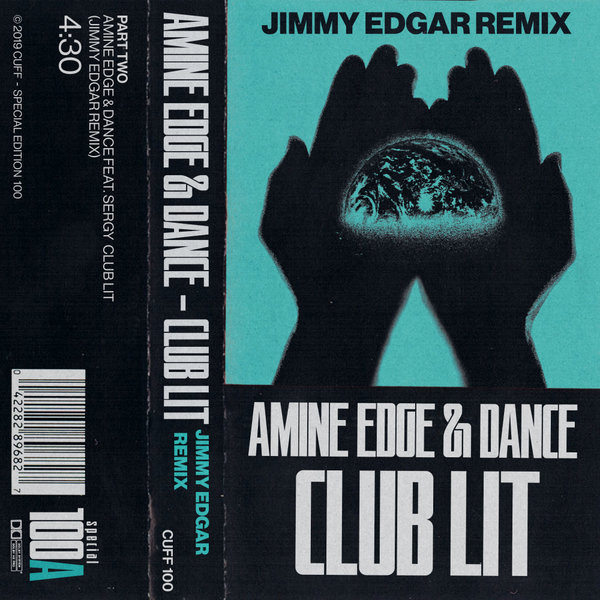 In the first set of remixes to celebrate the 100th release on their label CUFF, Amine Edge & DANCE have joined forces with Jimmy Edgar for a house meets glitchy Detroit techno remix of Club Lit.
Having first launched CUFF in 2014 with Halfway Crooks, Amine Edge & DANCE have come full circle with their 100th release Club Lit which they're honouring with a special event at ADE in October and a remix package with the Jimmy Edgar mix being one of them.
Amine Edge & DANCE promised a celebration and boy did they deliver with glitch music pioneer Jimmy Edgar taking the reins. Putting his own Detroit techno spin on the track, the Jimmy Edgar remix has seen Club Lit reimagined with juggernaut bass and funky grooves that will no doubt have everyone jumping up and down.
This mix isn't the only thing Amine Edge & DANCE have got in store. Having dropped the original track last week, they're also treating fans to another three remixes with Matt Sassari, DJ Deeon and Eskuche, dropping one week after another.
The duo will also throw their CUFF ADE Secret After Hours after party on October 19th, starting at 7am with Ninetoes, Roger Sanchez, Daddy Dino, Reelow, Mason Collective, Secondcity, Chicks Luv Us, Clyde P and plenty more secret guests joining them.
With an undeniable ear for a catchy hook, the talented DJ and producer duo from Marseille, France who first started out lighting up clubs along the French Riviera have built their empire from the ground up.
Developing their own sound along the way, the two-piece have forged their own take on underground house consisting of a future facing cross between funky deep bass, house and tech influenced by hip-hop, Phili soul, house and everything in between.
Through their unique sound, Amine Edge & DANCE has garnered landmark achievements such as being crowned winners of the Bass category at the 2016 DJ Awards, and have also performed at fabric, Defected at Ibiza's Eden club as well as Sankeys' 25th anniversary celebration earlier this year alongside Steve Lawler, Artful Dodger, Latmun, Mason Maynard and many more.
The duo has also collaborated with the likes of Clyde P, Tim Baresko, Prok & Fitch and also received love from BBC Radio One DJs Annie Mac, Danny Howard and Pete Tong.
With a slew of new releases being lined up through CUFF thanks to its entourage of some of earth's most talented collective, Amine Edge & DANCE's meteoric rise is a testament to their capabilities of world domination.
Amine Edge & DANCE featuring SerGy – Club Lit is out 20th September via CUFF. Tickets for the Amsterdam Dance Event are on sale now.
Advertising