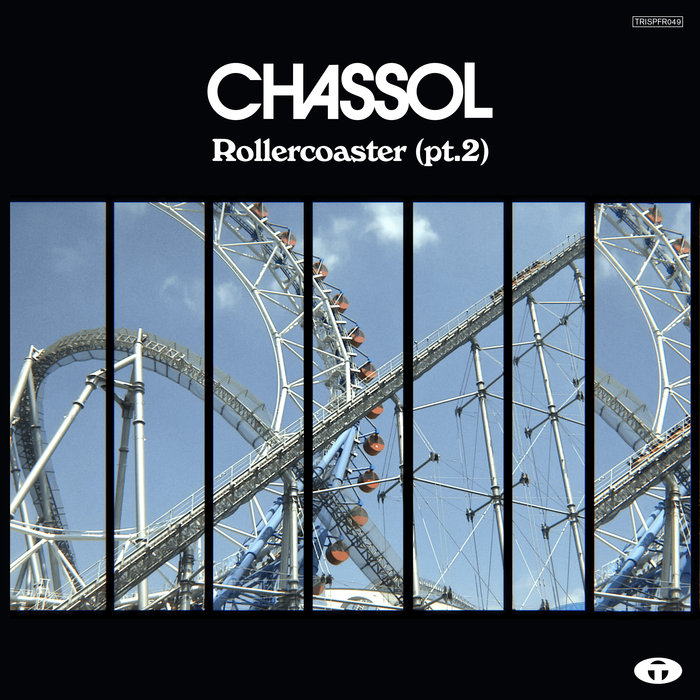 NEW ALBUM: 'LUDI' – DUE MARCH 6, 2020
Has developed an approach to making music that's unlike any other artist working today
CRACK
We're hooked London in Stereo
I am so in love with this man Gilles Peterson
An eclectic genius who reminds you of Steve Reich, Ennio Morricone or The Cure Le Monde


French composer Chassol today releases a new single, 'Rollercoaster (Pt.2)', the latest to emerge from his forthcoming new album release 'Ludi', due out through Tricatel on March 6, 2020. Having previously written for Frank Ocean (Blonde) and produced for Solange (When I Get Home) – alongside collaborations on home turf with Phoenix and Sebastian Tellier – audio-visual maverick Chassol's new work is informed by German author Hermann Hesse's utopic novel The Glass Bead Game. An ambitious multi-disciplinary project spanning a double album, a film and a live show, 'Ludi' follows previous albums 'Indiamore' and 'Big Sun', all released through Bertrand Burgalat's pioneering Tricatel label. Watch the new video for 'Rollercoaster (Pt. 1 & 2)' from here.
WATCH THE NEW VIDEO
HERE

Since 2011's 'Nola Chérie', Chassol (French-Martinique, Paris native Christophe Chassol) has been finessing his own experimental 'ultrascore' approach to composition, in which – inspired by Steve Reich and Hermeto Pascoal – vocal and ambient sounds from video footage are harmonised in perfect sync to create a living, breathing soundtrack. His experiments caught the ear of Diplo, who in turn put Frank Ocean onto Chassol's 2013 album, 'Indiamore'. Ocean – at the time working on 'Blonde' – then tapped Chassol to join him at Abbey Road, to develop speech harmonisation on the album (following a period of Chassol ignoring his calls, having no idea who Ocean was). Shortly afterwards Solange – having Shazam-ed his music at a performance installation – sought out Chassol to produce several tracks on 2019's 'When I Get Home'.
Driven by a gleeful impulse to reshuffle the deck and informed by work scoring film, television and ads, 'Ludi' finds Chassol taking his quest to arrange reality even further. It is the simple idea of play that underscores this wide-ranging project – where music, mathematics and aesthetics all intermingle. According to sociologist Roger Caillois, 'play' is broken down into four categories: chance, vertigo, masks and competition. In early prep work for 'LUDI', Chassol filmed several real-life scenarios illustrating these themes, then applying his ultrascore process, drawing out the melodies he heard in the clips. Harmonies are drawn from anything & everything: basketball players in the suburbs, the playground games of children and a gaming arcade in Tokyo.
With 'Ludi''s latest single 'Rollercoaster (Pt.2), Chassol taps into the sensation of vertigo to create a musical synthesis for the adrenaline rush of a day at the theme park. The track's alternately fluttering and hammer-like piano dovetails with the screaming of riders captured on Chassol's GoPro recording of a ride in a Tokyo amusement park. With the footage wholly unauthorised, the found sounds featured on 'Rollercoaster (Pt.2)' – which also features guest vocals from Alice Lewis, Thomas de Pourquery and Alice Orpheus – survived a necessary sprint to escape the park's Japanese security guards.
Speaking about the new release, Chassol says: ""We first tried to get on the ride with our sound engineer wearing a big black trench hiding his mics, but were instantly kicked off by security….so my cousin & I went back 2 days later with a hidden GoPro and were able to do 2 rides before they saw us filming on their cameras….They chased us for 10 mins after that….but didn't get us….that was epic. As for the music I wanted to pay homage to The Cure's 'Jumping Someone else's train' and its video clip of a rail road filmed backwards from the rear of a train."

Ludi is Chassol's most complete, precise and radiant work, a new artistic creation that fills the listener both with joy and reflection. With 'Ludi', Chassol directs his own round of Hermann Hesse's game, taking on the title of Magister Ludi, master of The Glass Bead Game.
Pre-order 'Ludi' here: https://idol.lnk.to/Ludi