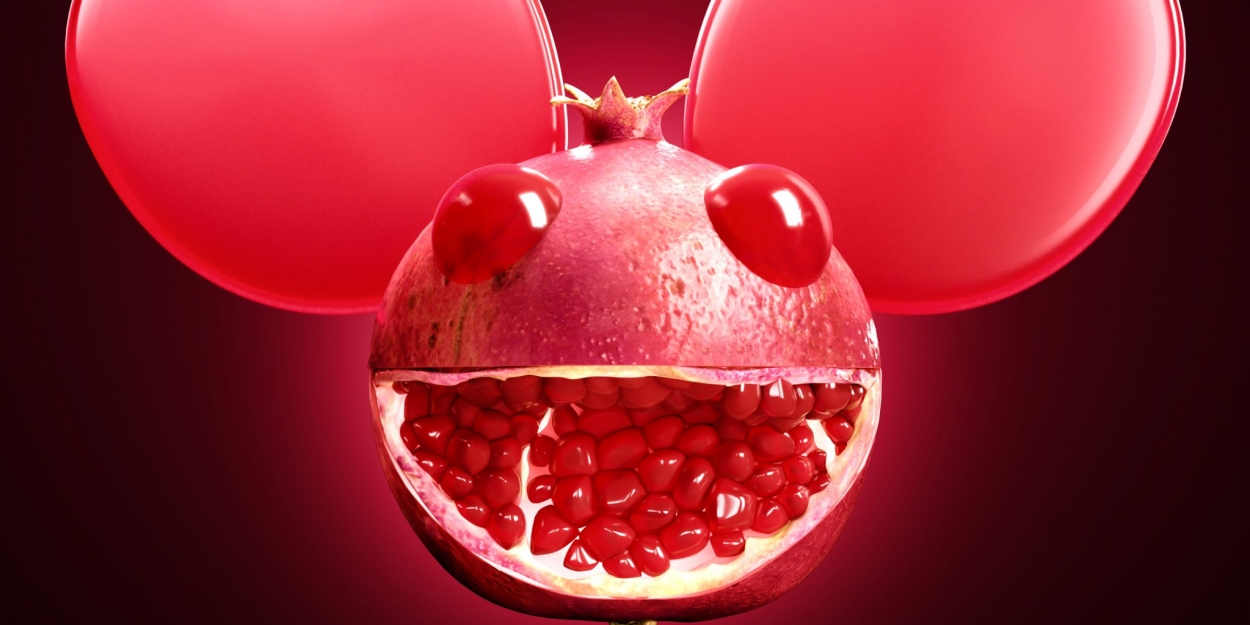 In early December 2019 just as the creative world was invading Miami for Art Basel, deadmau5 joined The Neptunes at North Miami's Criteria Recording Studios for a secret studio session laying the groundwork for the new single "Pomegranate."  Released today, May 20 on mau5trap, deadmau5 & The Neptunes "Pomegranate" takes Joel Zimmerman, Pharrell Williams and Chad Hugo into a new plane of sweet-jam R&B with electro-pop panache.
The luscious "Pomegranate" straddles remarkably well between the two worlds of deadmau5 and The Neptunes. Heavy electronic basslines, shimmering tones and sensual lyrics delivered by The Neptunes' Pharrell Williams combine for a breezy collaboration ready to dominate radio waves and playlists this spring.
Look for "Pomegranate" to appear on deadmau5' next artist album.
About deadmau5:
Joel Zimmerman, more commonly known as deadmau5 (pronounced 'dead mouse'), is one of the world's most respected electronic music producers of modern times. Enjoying international chart success with his platinum-certified single "Ghosts 'n' Stuff," as well as "Professional Griefers," "Sofi Needs A Ladder" and "I Remember," he has also released seven critically acclaimed albums: an orchestral album where's the drop?, W:/2016ALBUM/ and  > album title goes here < (both reached #1 on the Billboard Dance/Electronic Chart), 4×4=12 (recognized for having sold well over 1,000,000 copies in the U.S.), For Lack Of A Better Name, Random Album Title and while(1<2). The multiple JUNO Award-winning and GRAMMY®-nominated artist's ability to push the boundaries of his talent grows at an equal rate to his fan base, which counts 15 million and more over his combined social media channels. His latest music offerings which includes original productions, remixes and collaborations with featured guests like Rob Swire ("Monophobia"), Lights ("Drama Free"), Shotty Horroh, Scene of Action and more can be found on the mau5ville: level 1, 2 & 3 series.  deadmau5 2019 with his first ever film score for the Jonas Akerlund-directed spy thriller Polar available worldwide now via Netflix with its soundtrack released on mau5trap as well as celebrated the release of here's the drop!, an album of remixes of material from his 2018 orchestral album where's the drop?  For it, plenty of revered tastemakers such as Morgan Page, Matt Lange, PEEKABOO, Mr. Bill and more have been tapped for their talents to make this remix album a cerebral journey through sound.  Over the course of his extraordinarily successful U.S. cubev3 tour late 2019/early 2020 which ranked in the Top 10 of Pollstar's top tours globally, deadmau5 released a trilogy of singles. "FALL," "COASTED" and "SATRN" were new material featured as part of his new live show complimenting the most complex production he has ever presented.   Look for a new artist album to arrive from deadmau5 soon.
About The Neptunes:
Formed by Pharrell Williams and Chad Hugo, The Neptunes imparted their singular spirit upon some of the most seminal albums and songs of this century, ranging from Snoop Dogg's "Drop It Like It's Hot" [feat. Pharrell] and Britney Spears' "I'm a Slave 4 U" to Justin Timberlake's "Rock Your Body" and Gwen Stefani's "Hollaback Girl." Cited on Billboard's "Top 10 Producers of the Decade" as #1, Vice claimed, "They have turned just about every modern genre inside out, spearheading the most revolutionary change in the sound of pop since Motown."  Along the way, the collective garnered four GRAMMY® Awards, notched 24 Top 10 entries on the Billboard Hot 100, and earned a place in the Songwriters Hall of Fame among the 2020 class of inductees.   1998 saw the pair claim a place on the charts for the first time with N.O.R.E.'s "Superthug (What What)" and went on to produce Kaleidoscope for Kelis as their first full album behind-the-board. Carrying this style into the next century, a string of chart-busting smashes followed such as Ol' Dirty Bastard's "Got Your Money" [feat. Kelis], JAY-Z's "I Just Wanna Love U (Give It 2 Me)," Mystikal's "Shake Ya Ass," Diddy's "D.I.D.D.Y.", Usher's "U Don't Have To Call," and Busta Rhymes's "Pass the Courvoisier, Part II." The Neptunes set the globe on fire with "I'm a Slave 4 U." Not only did it go #1 around the world, but it dramatically amplified their influence as a game-changing force. On its heels, the two-piece crafted "Hot in Herre" for Nelly, scoring #1 on the Billboard Hot 100. 2004 represented a watershed moment. They created seven of the thirteen tracks on Justin Timberlake's classic Justified, receiving GRAMMY® Awards in the categories of "Producer of the Year, Non-Classical" and "Best Pop Vocal Album." Two years later, they collected the "Best Contemporary R&B Album" GRAMMY® Award for their contributions to Mariah Carey's comeback The Emancipation of MiMi and landed the 2007 "Best Rap Song" GRAMMY® for Ludacris's "Money Maker" [feat. Pharrell Williams].  Among hundreds of titles, their discography consists of smashes for Beyoncé, Madonna, JAY-Z, Watch The Throne, Clipse, Jadakiss, Pitbull, LL Cool J, Kendrick Lamar, Fabolous, T.I. Fall Out Boy, John Legend, Solange, and Shakira in addition to soundtrack cuts for billion dollar blockbuster franchises, including Bad Boys, Fast & Furious, and Austin Powers, to name just a few.   Joined by childhood friend Shae Haley, The Neptunes also helmed production for all five N.E.R.D albums to date. These include the gold-selling one-two punch of the classic In Search Of… [2002] and Fly or Die [2004] as well as 2008's Seeing Sounds and Nothing in 2010. The group's 2017 offering NO_ONE EVER REALLY DIES yielded the double-platinum hit "Lemon" [feat. Rihanna]. Not to mention, they unleashed a gold-selling compilation, The Neptunes Present…Clones, in 2003 and captured #1 on the Billboard Top 200 with the project.   2020 marks a new era for The Neptunes. Collaborating in the studio with Rihanna, Lil Nas X, Dua Lipa, Snoh Aalegra, Buju Banton, Beck, SZA, Lil Uzi Vert, G-Eazy, deadmau5 and more, the "Neptunes Sound" continues to forever transform the careers of A-list superstars and the culture at large.
Follow deadmau5:
Follow The Neptunes: