The debut release from Cinematic Music Group's new imprint Smoker's Club Records, west coast duo Dizzy Wright and Demrick have released their new album Blaze With Us 2.  A prime selection for the label helmed by JohnnyShipes, Shiestbubz, and Smoke DZA,Blaze With Us 2 serves as the successor to the duo's 2016 Blaze With Us LP that racked up over 20 million streams on Spotify. Today, album cut "Medicated" takes on new life with a music video directed by Simon David who is known for his work with J.Cole and YBN Cordae. 
Shot at Los Angeles' Playback Studio, "Medicated" lives up to the tracks title with a hazy cyph brought to life with distorted shots and coloring, really hitting home the lifted spirit of the song. A standout cut from the album, "Medicated" is the duo's homage to the plants healing properties and reaffirms the pairs dedication to marijuana advocacy. Blaze With Us 2 also sees Dizzy and Demrick recruit Tommy Chong, of the legendary Cheech & Chong, to make a guest appearances throughout the duration of the album. In addition to the new music video drop, Dizzy and Demrick have also launched a brand new merch line for the project comprised of four new t-shirt styles that can be found on the BlazeWithUs2 website.
One-half of the duo, Dizzy Wright is one of the brightest rap stars to hail from Las Vegas, and a XXL Freshman who boasts a global cult-like following. Demrick on the other hand, is the very definition of paid dues. Discovered in housing projects in Philly by Kurupt and brought to LA where he put in 10,000 hours writing alongside legendary artists like Cypress Hill and Xzibit, Demrick was introduced to Dr. Dre and freestyled on the spot. Having developed a loyal following and respect from his industry peers, Demrick appears on cuts and tours with Berner, Logic, AD, and others. Between the two, they've racked up millions of plays and features on Rolling Stone, Billboard, Complex, FADER, and more.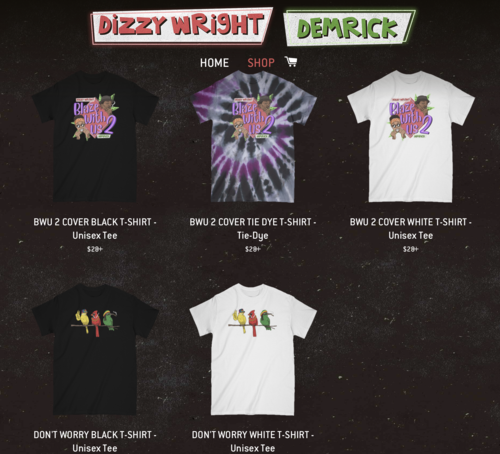 A match forged in bud heaven, both Dizzy and Demrick have established themselves as bonafide cannabis connoisseurs, each having crafted multiple award winning cannabis strains attached to their names: two time High Times' Cannabis Cup winner Dizzy OG (Crown Genetics) and Demrick's Gas-Lato (GasCo) being the most notable. As a cannabis advocate and entrepreneur, Dizzy was also instrumental in the legalization of weed in Las Vegas.The duo's partnership with Johnny Shipes and Smoke DZA's Smoker's Club imprint is a natural extension of the stamp these two have made in the independent hip hop and cannabis communities. Blaze With Us 2 hits the mark and showcases the authenticity of real rap from an era where "the good herb was represented," not fabricated.